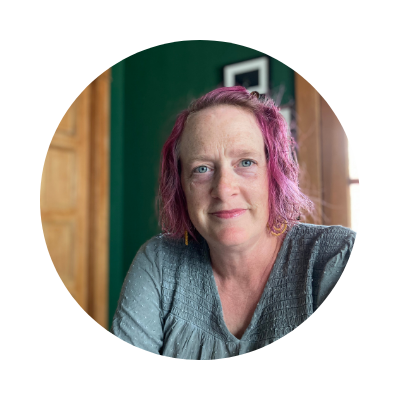 I am a queer mama, writer, performer and filmmaker. My ancestors come mostly from Ireland and England and I live on Dakota Land. I have supported myself and my art for many years as a house cleaner. I am also the director of Pangea World Theater's Lake Street Arts!- Circling- a Placekeeping through the arts program.  My daughter is seven and is both a great creative force in my life and a challenge to my creative practice.  I no longer have the amount of time I once had (oh the time!) but being a parent has honed my focus and helped me shed the stuff that just gets in the way of what matters. My work is about ancestors, spirit, contradictions, humor, confronting white supremacy and always about healing. I live in Minneapolis two blocks from the Mississippi with my father, my partner and our amazing daughter.  Learn more about Ellen's work at www.fierceshimmer.art.
Why do you think parents should take this course?
Parenting can be lonely in the best of circumstances and I think it is fair to say these are not the best of circumstances.  When designing this program we were invited to think about what we need or needed as parents and from that comes some relatable, juicy, heartfelt offerings.