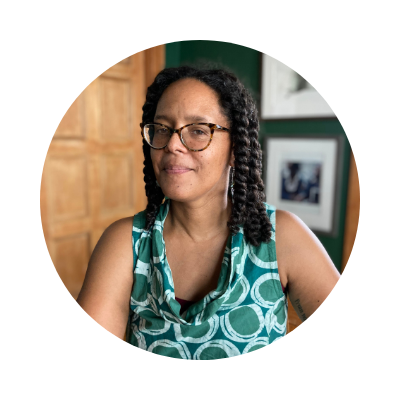 I am a Minneapolis-based multidisciplinary artist and community builder. As a single parent to a first-year high school student in these times, I am deeply attuned to the profound challenges of the world he is inheriting right now. In my creative work I build opportunities for us to form engaged community and create practices in which   we figure out how to take care of each other. I live and work at the intersection of the BIPOC, queer, political, and artistic communities seeking to build a more equitable and embodied world.
Why do you think parents should take this course?
Being in conversation with other parents can be grounding, but lots of us are overwhelmed right now, and connecting with each other in this way is tough. Learning with four artist-parents as we share some of the ways we process parenting and self-create grounding opportunities is one way to support yourself. It's an opportunity to tap into your own wisdom, and affirm and center your own ways of being in the world.
"Why do you think hearing poetry or creative writing or writing poetry is important to you?"
Poetry slows me down when I read it. It creates a pause that helps me break into the emotional. Whatever the feelings are, poetry offers me space to feel big emotions in acceptable and adaptable portions.
When I write creatively, I let things pour from me that are even more freeform and more unburdened than when I journal. Writing something and going back to it later I often discover understanding and context about the topic that I struggle to reach when I start writing from my logic.