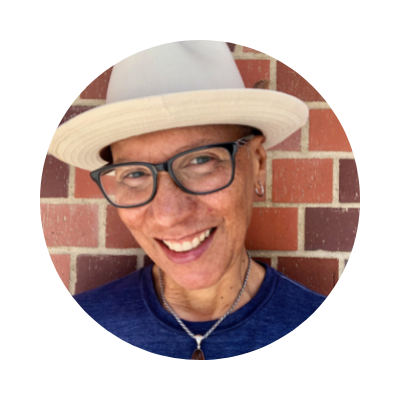 I am a writer that writes for performance. My texts activate African-American southern migration stories that honor the African-Diasporic Knowing that the past-the present-the future-the living-the dead-and the unborn co-exist – and that the layering and dissonance of time create rhythm – and life. I aspire to offer art as a tool for bridging, connection and transformation beyond disparaging constructs. Always/my Work centers my relationship with my Mother and my Daughter – and how my healing/heals them. Learn more about my work at sharonbridgforth.com
Why should parents take this class? 
I believe that parents always need to Fill themselves Up. To expand. To Open. To heal. So that we can See our children. And Love them most Fully.
Can you tell us more about dem blessings deck?
"I was reflecting on my journey and my healing and my growth and all the love, beauty, joy and freedom that I am feeling thanks to the support and love of so many people and my own soul's decision to live fully…I started thinking about my eight year old self and I was wishing I could say things to that child that might help them on the journey. So I started writing what I began to call 'Blessings' to my eight year old child self. And then as I kept doing it I began to feel that maybe actually the child was telling me things that I need to Know. As I kept writing I began to imagine that my daughter's Soul was talking to me and teaching me because she is my great teacher. And then I felt that perhaps these are the thing that my Mother wishes she could say to me that she is not able to for various reasons… As I kept doing it, like all of the work, it became Itself and it became about so much more than me. So I am excited to offer [dem Blessings] and be in conversation with them and with you with them. There are forty [Blessings]. I usually just shuffle and pull and my question is always 'What Blessings does infinite love want us to receive right now?'" Learn more at: www.datblackmermaidmanlady.com
More on Sharon
A Doris Duke Performing Artist, Sharon Bridgforth is a writer that creates ritual/jazz theatre. A 2020-2023 Playwrights' Center Core Member, Sharon has received support from Creative Capital, MAP Fund, the National Performance Network and is a New Dramatists alumnae. Sharon has served as a dramaturg for the Urban Bush Women Choreographic Center Initiative's Choreographic Fellowship program and has been in residence with: the NoVo Foundation; Thousand Currents; Brown University's MFA Playwriting Program; University of Iowa's MFA Playwrights Program; The Theatre School at DePaul University; allgo, A Texas Statewide QPOC Organization; and The Department of Performance Studies at Northwestern University. Widely published, Sharon is Executive Producer and Host of the Who Yo People Is podcast series. Sharon's dat Black Mermaid Man Lady/The Show premiered at Pillsbury House Theatre in 2018, and was featured on Twin Cities PBS