Commission a poet to give words to what matters most – our connections with each other.
"Poetry is a matter of life, not just a matter of language."

-Lucille Clifton
The Spark & Stitch We Need Each Other Poetry Project offers you the chance to give something totally unique and customized to the people who show up for you. Kids and parents alike need relationships to thrive. This is an opportunity to find words to honor the people who hold you up and get you through (and who need you too). 
"Diver created a warm connection with me, she listened with presence and was attuned. Right away I felt welcome, accepted and interesting. Listening to the typewriter was incredible! I was so surprised how much that impacted my experience. And the poem Diver created was/is beautiful- I felt an immediate connection to her/my/our words."

– Julie Plotkin, Poetry Project Participant
Sign up for a short session with partner poet Diver Van Avery. In these phone sessions, Diver will ask you who you want to gift a poem to and then ask you questions about the story of your connection. After a down to earth and meaningful conversation, Diver will write a poem inspired by what you shared while you listen to the sound of the typewriter. Diver will read the poem aloud and we will send it in the mail to you or the person you are gifting it to.
"Poetry creates evidence of where we have been together and who we are to each other."
Too often we think of resilience as an individual trait that we either have or don't have. Or we frame it as something that we can just dig for and conjure up when needed. The research, however, paints a very different picture. As the Harvard Center on the Developing Child reminds us, "Resilience requires relationships, not rugged individualism."
We human beings – kids and adults alike – are hardwired to connect. Connection creates a protective buffer around us for life's hardest moments and gives us the safety and security we need to take risks, learn, and grow.
Connection isn't just about being in proximity to others. Connection is about belonging. Connection is about acknowledging in large and small ways that we need each other.
It's easy to take this for granted. We assume our teens know that we love them unconditionally. We assume that our partners know that we see their strengths. We assume our elders know how much we have learned from them.
Offering our kids, partners, friends, and loved ones a poem doesn't replace the ongoing work of nurturing relationships. But it can create a powerful and nourishing mirror when we need it most.
We want to offer you the chance to commission a session with founding Spark & Stitch collaborator and partner poet Diver Van Avery to help you express love and thanks to the people that you need who help get you through or help you thrive.
Why a poem?
This is an important time to name and celebrate the ways that we need each other. Many of us are thinking right now about what to give to the people we love. Commission a poem for yourself, your kids, neighbors, teachers, childcare providers, your friends, family members, or other loved ones…
That articulates what you learn from them.
That expresses gratitude for what they offer you.
That makes meaning from challenges you have lived through with them.
That records and remembers what you cherish about them.
That is gift that is completely personal, and completely unique.

How does it work?
Schedule it.
Decide who you want to focus the poem on. Your family? A loved one?

Fill out the form and confirm payment for a date and time for your 30 minute session.

When your date/time arrives, you will receive a phone call from Diver.
Participate in the session.
You will decide if you want a poem for yourself or for you to give as a gift to someone in your life.
You don't have to have anything prepared! Diver will ask you questions. All you have to do is talk. Questions range from; "Tell me about a memory you share with this person." to "What have you learned from them?"
After 10-20 minutes of talking, Diver will put the phone on speaker and set it down next to the typewriter. Your poem will be written as you sit in reflection. Remember, YOU ARE NOT WRITING THE POEM! Diver will write you the poem that emerges from your conversation. When the poem is done, Diver will read it to you. Perhaps there will be crying. There often is.
Enjoy it.
Your typed out poem will be mailed to you. You can frame it, put in on your refrigerator, gift it to the person you focused the poem on, or keep it in a special place to pull out when you need it the most. 
Frequently Asked Questions
Poetry sessions are $65 and a personalized poem that will be sent to you in the mail. We encourage you to pay as much as you are able. Your money goes directly to paying the artist a livable wage for her creative work, for increasing Spark & Stitch Institute's work in the arts, and to our anti-racism commitment of donating 5% of all proceeds to the non-profit Embrace Race.
Can I give a session as a gift?
Yes! There are two ways that these sessions are often used as gifts.
You can book a session to participate in yourself but the focus of the session is your loved one. For example, you may choose to talk to Diver about your own parents, your partner, your children or a friend. When you receive the poem in the mail, you can gift it to them!
You can choose to gift the session itself for a loved one to participate in.  In this case, you might want to present your loved one with the idea (you can even use our gift card template). Then come back to this site to book a time that works for them and simply forward them the confirmation email with the session details, time, and date. Make sure you use the phone number and address of the recipient in the form!
What is the finished product?
Your poem will be typed onto a designed 5″ by 8″ high quality print and mailed to you at the address provided in the scheduling form. You might choose to frame it and hang it in a common area, mail it to a loved one, place it in a special spot, or make a copy for everyone in the family. You do you.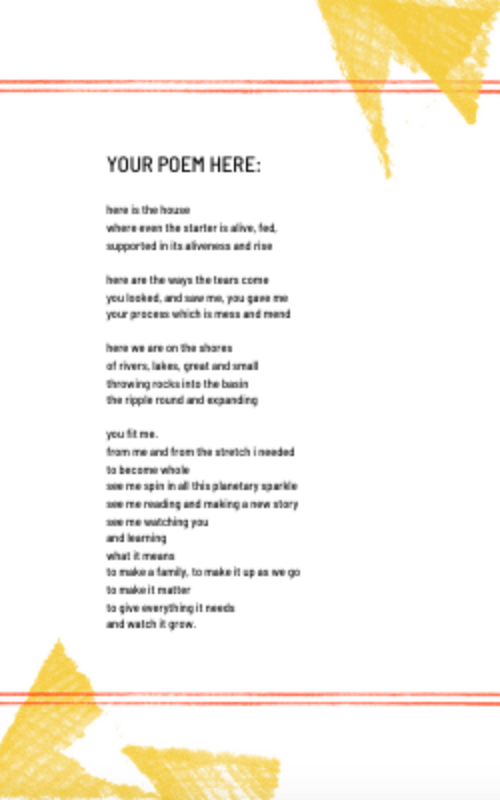 Do I have to prepare? Do I need to be creative/articulate/artistic...?
No and no. You have already prepared for a poem by living and breathing through this time! The We Need Each Other Poetry Project commissions a poet to create a personalized poem for you based on your conversation. No preparation or background in the arts or poetry necessary.
Why is Spark & Stitch offering this project?
We re-branded as Spark & Stitch Institute just before the pandemic. We chose the name because it is active, creative, playful, and leaves room for both the science and art of raising connected and courageous kids. The Family Poetry Project is the first of many offerings to come that integrate creative arts . Neuroscience has demonstrated over and over again that we human beings are powered by story and emotion as much as cognition. We are committed to sparking new ways of connecting and stitching new neural pathways – made stronger by engaging in science, creativity, and the arts. 
Diver Van Avery is a writer, educator, and public artist based out of Minneapolis. Their relationship with Spark & Stitch long precedes the Family Poetry Project. Diver and Erin Walsh co-created and co-taught an undergraduate program called Making Media, Making Change with the Higher Education Consortium for Urban Affairs for years. Van Avery was a founding collaborator of Spark & Stitch Institute in 2019 and, among other projects, worked closely with Erin and Dr. Dave to design and direct the entire library of Spark & Stitch online parenting classes.
Van Avery founded and is the Director of Poetry for People (PfP) whose mission is to embed poetry into the daily lives and geographies of neighborhoods. Van Avery was a lead artist for two projects selected for Americans for the Arts' Public Art Awards, an award that highlights the most compelling art projects across the country. In all of their work, Van Avery believes that art is an essential catalyst for connection and can lay the foundation for political change.  Their original performance and directing work has been presented at the Walker Arts Center, Pantages Theatre, Bedlam Theatre, Pangea World Theatre, Intermedia Arts, and Pillsbury House + Theatre. They have been a Community Cultural Leadership Institute Fellow at Intermedia Arts, and received the Arts on Chicago Public Art Grant from Pillsbury House Theatre, the Jerome Travel and Study Grant, the Blacklock Nature Sanctuary Residency, the Minnesota State Arts Board Artist Initiative Grant, the Jerome Foundation's Fellowship at Minnesota Center for Book Arts, the Writer-to-Writer Mentorship Program at SASE, and the Naked Stages Emerging Performance Artist Fellowship Intermedia Arts.
Their award winning past projects have all been done in collaboration with other artistic luminaries and have allowed them to partner with Mississippi River Connection, Northern Lights, the Community Planning and Economic Department of Minneapolis, Shakopee Women's Prison, public libraries,  the Public Works department, and City of Lakes Community Land Trust. Van Avery received an MFA in Creative Writing from Hamline University and is pursuing a Masters in Counseling to allow them to focus on healing the disembodiment and wounds that are caused by oppression. A single queer parent by choice, Van Avery lives with their dog and daughter in the Powderhorn neighborhood.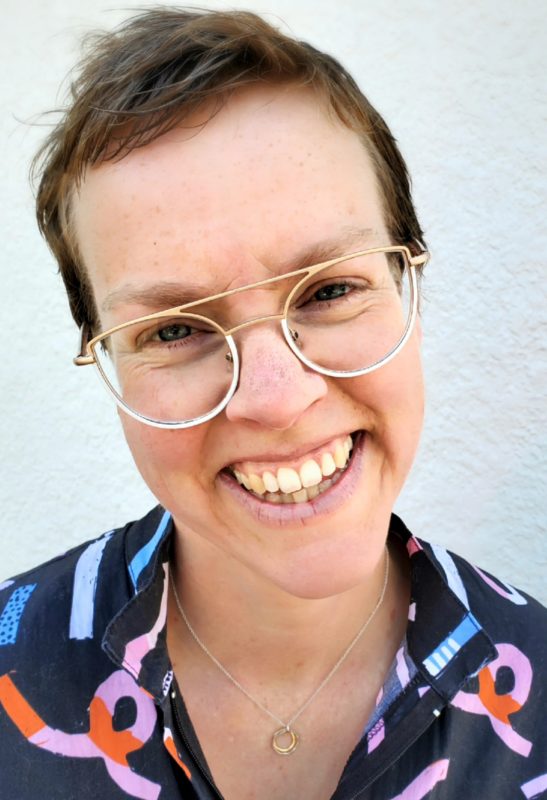 "I've been writing poems for people for over ten years. It would be an honor to write one for someone you love and need."

-Diver Van Avery, Spark & Stitch Partner Poet