"This poem is about us."
"That part is about me!" my youngest remarked proudly as we read our family poem out loud. Without hearing his name, he knew that the phrase "planetary sparkle" was his part of our story.
We had just finished a personalized family poem session with Spark & Stitch collaborator and artist, Diver Van Avery. The session began like everything in our home ten months into the pandemic – slightly chaotic, a bit late (how are we late for things when we never leave our house?), and snuck into a day packed with Google meets, calls, and constantly overlapping needs. 
The session was short and closely mirrored the state of our lives at the time. As Diver asked simple questions about life together in the pandemic, our kids were squirrelly and our responses far from carefully constructed. After a raw and raucous conversation I wondered to myself, "I hope she can make something out of this!" 
Soon Diver asked us to put the phone on mute so she could craft our poem. We obliged and for the first time that day everyone fell quiet as we listened to the tap, tap, tap of the typewriter on the other end of the line. 
"It's ready for you!" she finally said and read our family poem out loud over the phone. 
Halfway through, my youngest interrupted the reading to tell me, "You're crying again!" My oldest, always eager to inform his younger brother about the ways of life, was pleased to remind him, "Of course she is crying. She's happy! This poem is about us."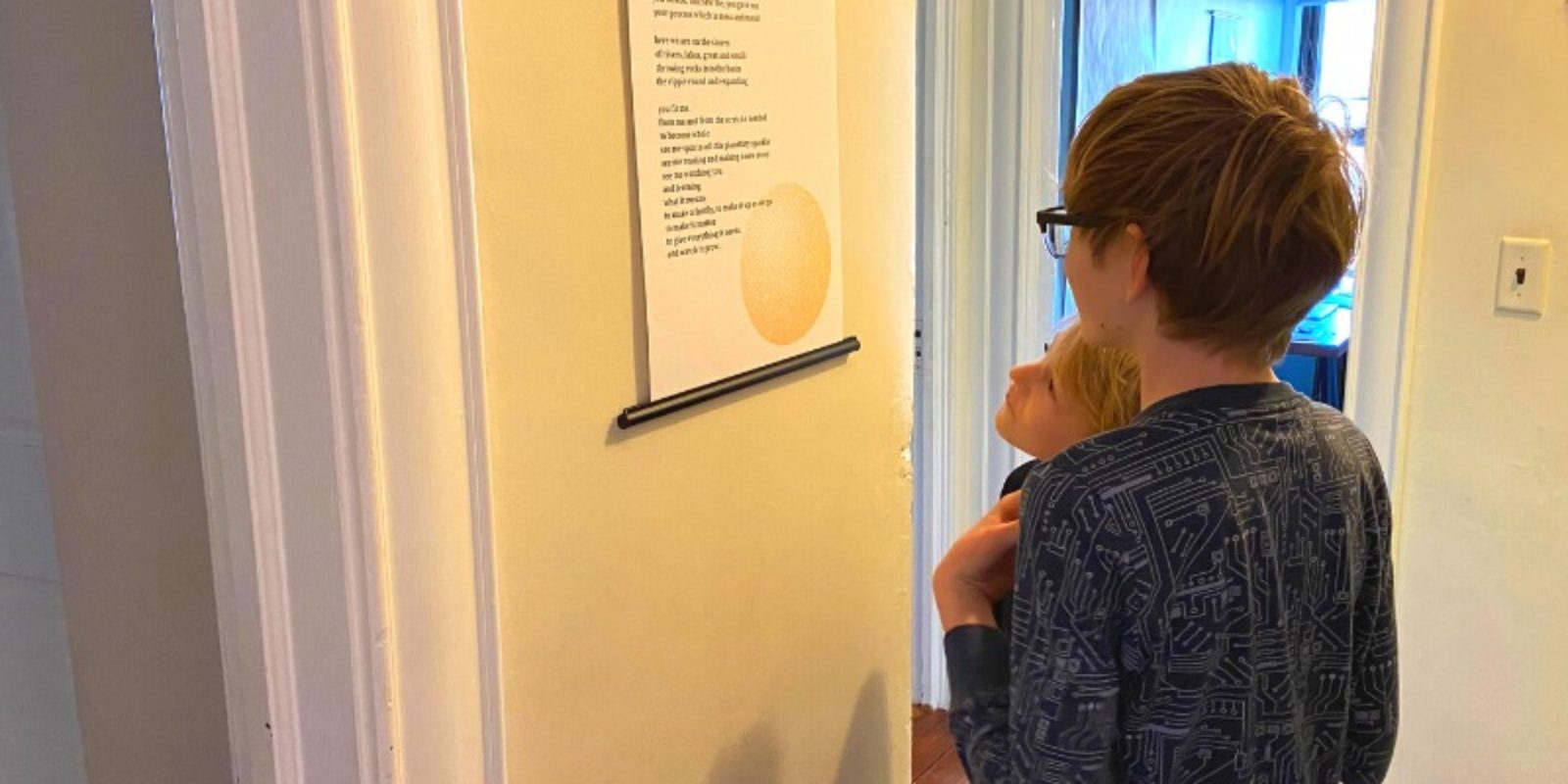 We are powered by story
In a recent interview with PBS, editor Alice Quinn shared that poets take on "the role of the witness in culture" and, as such, are especially powerful during the pandemic as we experience seismic shifts in our personal and collective lives.
Experiencing this witnessing was part of what made me cry during our family poem. Parenting during a pandemic is not only isolating, it can feel truly invisible, marked by wildly mundane yet totally exhausting juggling acts day after day. There are just fewer opportunities to share both the losses we feel and the strengths and delights of our little family systems. Poetry creates evidence of where we have been together and who we are to each other.
Of course it isn't just parents who need to be seen. Kids crave witnesses and meaning as well. We wrote early on in the pandemic about the protective power of family narratives in building children's resilience. Family stories don't have to be perfect. Indeed, kids benefit most from "oscillating narratives" that make visible our strengths through our messes, our triumphs, and our challenges. Whether we narrate it for them or not, our kids are actively adding chapters to our family story. They are answering questions like, "Who are we? What do we care about? How do we take care of each other?" 
This month marks a year of living through a global health crisis and long overdue racial reckoning. We each have our own identities, vulnerabilities, strengths, and stories. We are also tired. In our own exhaustion, letting someone else be witness and put words to what we've done together is an incredible gift. 
Our family poem now hangs in our hallway outside the bathroom. Our kids look at it while they brush their teeth at night. This nightly ritual is both mundane and moving – just like parenting. But I can tell that as they look at it they do feel seen, and as a result, we can see each other a little more clearly.
Introducing the Family Poetry Project
We re-branded as Spark & Stitch Institute just before the pandemic. We chose the name because it is active, creative, playful, and leaves room for both the science and art of raising connected and courageous kids. 
Parenting requires more than just information and strategies – it also demands reflection, creativity, culture, and meaning-making. Neuroscience has demonstrated over and over again that we human beings are powered by story and emotion as much as cognition. We consistently remind families that our brains are flexible and that, "Whatever the brain does a lot of is what the brain gets good at." Together, we can spark new ways of relating to each other and stitch new neural pathways – made stronger by engaging in science, creativity, and the arts.
This is why we are thrilled to launch the Family Poetry Project as we mark a full year of parenting during a pandemic. The Family Poetry Project offers you the chance to have a personalized live session with partner poet Diver Van Avery. Let a poet create words that provide a powerful and creative mirror of your family's experiences.
Check out my interview with Diver, learn more about the project, then book a personalized session today. 
---