The fire crackles and flickers onto the surrounding birch trees. Hanging lanterns transform the tents in front of me into glowing nests. Two signs point towards the nearest outhouses and children's voices ring out through the air.
As I describe this scene, you are likely picturing an adventure deep in the wilderness. But this past February students at Seward Montessori in Minneapolis didn't have to travel far to enjoy the magic of camping. They simply had to walk upstairs to their school media center. The only thing on their packing list? A good book.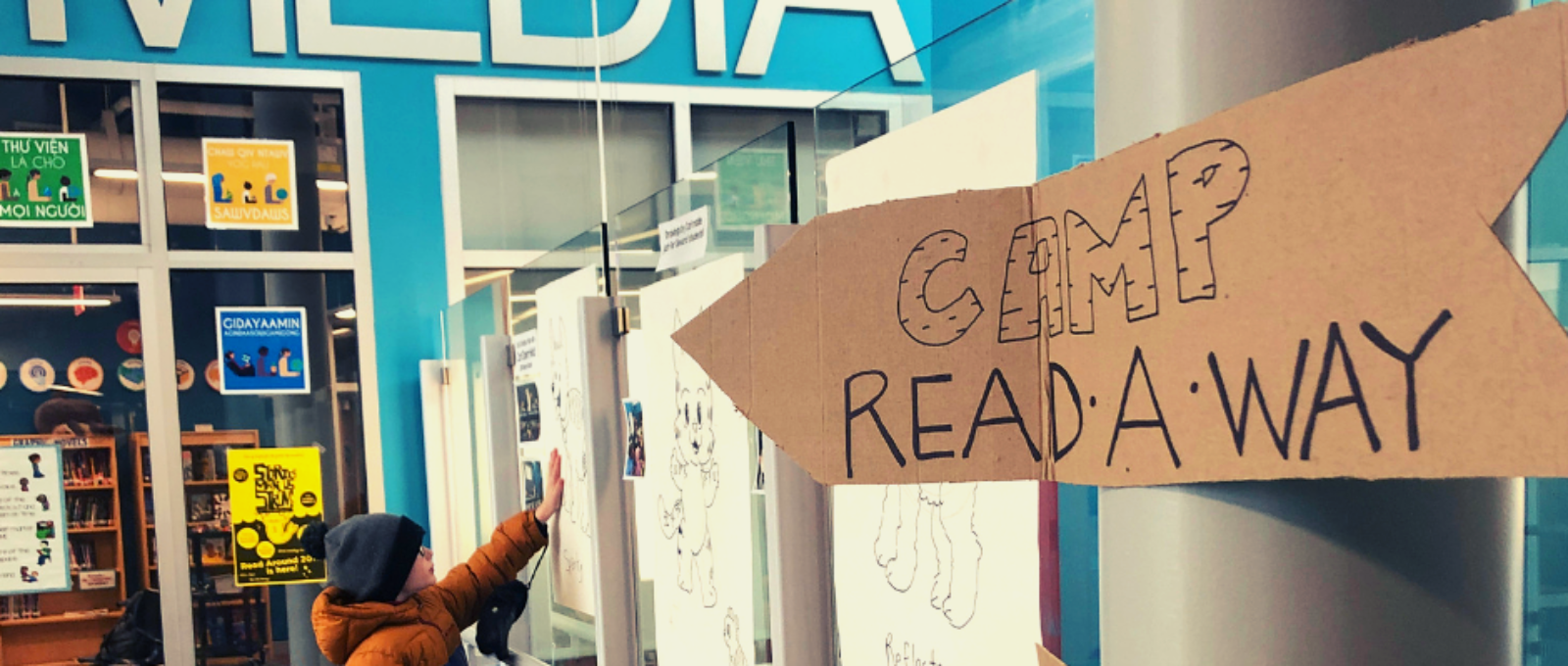 Welcome to Camp Read-A-Way
Every February as part of the school's annual Read Around, the school librarian and media team transforms the media center into a campsite designed entirely to make reading extra magical and fun. Every single student in the school gets a chance to take off their shoes, crawl into a tent, and curl up with a good book. One particularly large tent nearly fit an entire kindergarten class plus a couple of middle school students to read aloud.
It didn't matter that the crackling of the fire emanated from two smart boards or that the birch trees were cut from construction paper taped to the walls. For these students, Camp Read-A-Way felt about as far from a typical school day as overnight camp would.
If you look past the tents though there are signs that you are still in a media center. In addition to the shelves of books, one door leads to a production studio complete with a green screen. Another leads to a computer lab. A cart of iPads sits nestled into a back corner.
The juxtaposition of firelight, iPads, birch trees, graphic novels, paperbacks, and tech labs may feel dissonant for some, but for students today it is at the heart of what it means to benefit from a skilled 21st century librarian who builds bridges between the virtual and real worlds for students who desperately need to learn how to cross them.
Camp Read-A-Way is undoubtedly a magical scene, but even once the tents are packed up and put away until next year, the media center continues to play a pivotal role in student literacy and learning.
Why do you need a school librarian? Can't you just Google it?
Students today have more information in their hands than we could have imagined a generation ago. With a swipe of a finger, they can communicate with experts around the world and locate information at lightning speed. Does that make libraries and librarians irrelevant? Far from it. As Seward's Library Media Specialist Sarah Rose notes "Google does not erase the need for librarians, it increases it to the point of necessity. It is like handing a child keys to the car without Driver's Ed first."
Libraries are no longer just places to check out books (they never really were). Libraries build bridges between books, tablets, passions, and learning. Unfortunately, U.S. public schools have lost nearly 10,000 certified school librarians nationwide since the year 2000. That's nearly 20% drop. Even worse, the impacts of these losses are spread unevenly across schools, with districts serving students of color taking the greatest hit to media staff. Too often, when budgets get tight school librarians are the first to go.
Closing the opportunity gap
When it comes to technology, it seems we make the tools faster than we figure out how to help kids use them. While most children in the U.S. now have access to high speed Internet or computers, too many don't have the extra support, guidance, and resources to take advantage them. That isn't to say that there isn't aren't benefits to hanging out online. Indeed, a team of researchers have come up with a highly technical term to describe our kids' self-directed learning online: "HOMAGO." Let me spell it out:
Hanging Out – Spending time on Snapchat, gaming, or texting a friend.
Messing Around – Trying a new app or editing a home movie.
Geeking Out – Coding, building apps, or content creation.
Unfortunately, too few young people have the spaces or support they need to shift from simply hanging out to more interest-driven practices like geeking out that allow students to build their skills and link technology directly to their interests and goals. As more and more students come home with school-assigned tablets and devices the challenge is magnified. As senior researcher at Microsoft, Dana Boyd, reminds us "Access is not a panacea. Not only does it not solve problems, it mirrors and magnifies existing problems we've been ignoring."
In other words, more students have access to computers, tablets, and phones beyond the school day but far fewer are learning how to use them beyond entertainment. University of California's Mimi Ito describes disparities in these networks of support as an "opportunity gap" that is growing quickly in the wake of the digital divide based on access alone.
Cause for alarm – losing school librarians
Once students cross that gap to geeking out they need help evaluating the information and content they encounter there. A recent Stanford University study took a look at what they call "civic online reasoning," or the ability to judge the credibility of information online. Their findings are cause for alarm.
A whopping eighty percent of middle school students couldn't distinguish between sponsored content and a real news story online. (Before we shake our heads at kids though, I'm afraid grown ups don't always fare much better). Many students used the presence of an attached photo rather than the source to decide whether or not a newsy tweet was true. The researchers did not mince words when summing up their findings. "Overall, young people's ability to reason about the information on the Internet can be summed up in one word: bleak."
Kids are getting information and content from a digital firehose and learning how to discern credible sources from questionable ones and having the tools to understand bias, spin, and framing have never been more important. But kids don't jump over these digital divides, geek out, and build information literacy on their own. Instead, they need access to:
Media mentors. Mentors are trusted adults who help youth identify new interests, encourage them to expand their skillset, and offer them support and resources to achieve their goals. Mentors play a key role in supporting the transition from just "hanging out" to digital learning.

Connected spaces. Young people need spaces that are safe, flexible and allow students to build digital skills and show off their digital work. They also need spaces where they can access curated media and where they can seek and find the information they need.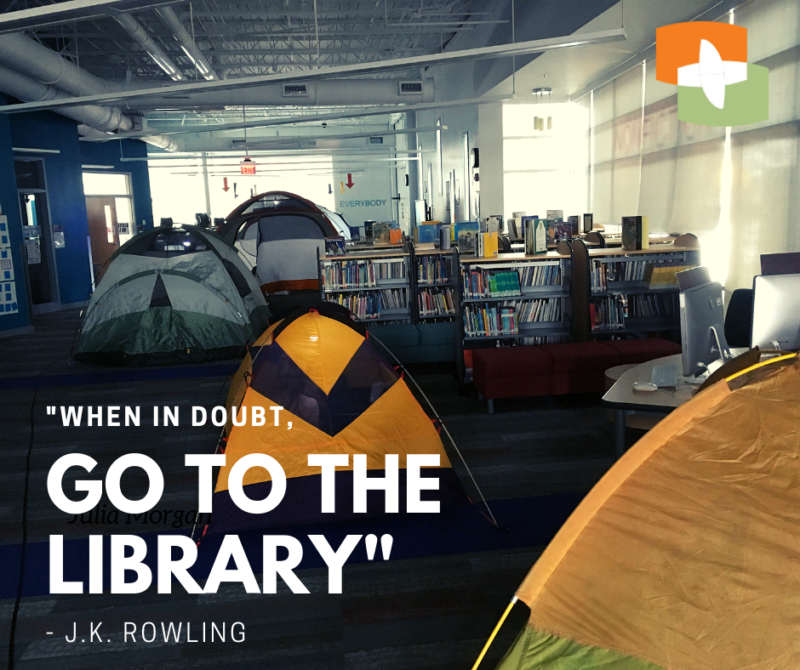 Mind the gap
If you are anything like me you can see the incredible digital possibilities for our kids. You also can see the huge gaps between the possibilities and the realities. As caregivers, we can do a lot to bridge that gap. But we can't do it alone. That gap, as the Association for Library Services to Children reminds us, is a good place "for the library to step in with knowledge, modeling, and support."
To close the gaps between possibility and reality, we will have to invest in people not just technology. The goal isn't just more devices. The goal is kids who know how to use those devices for learning and engagement and who know when to unplug, slip off their shoes, crawl into a tent, and get lost in a good book.
April is School Library Month
Let's not leave literacy and media mentorship up to chance. Instead here are some ways that you can celebrate School Library Month right away:
Visit your school librarians or media/technology teachers and thank them! Can't get to school? Send a good old fashioned thank you card.
Thank the entire teaching team within a media center. There are often key roles filled by Educational Assistant, Special Education Assistants, Americorps members and many others who support media education.
Make sure your school has a full time, trained school librarian. If not, starting asking questions to better understand how the school is navigating difficult budget decisions while being clear that you support a full time, certified librarian.
Ask about possibilities for parent learning nights or ways to get information from the media center to parents. The heavy lifting for digital citizenship happens at home.
Support from the district and school are essential. Make sure that your school district knows that you want them to prioritize funding for school librarians across the district for all schools, not just your child's. Media is not elective, it is core.
Check in on what your school librarian has curated for students. Ask about ways that school staff are creating a library space that reflects and affirms all students' identities. This April's theme is "Everyone Belongs @ Your School Library" – share the message!
Works cited:
Church, A. P. Tapping into the Skills of 21st-Century School Librarians: A Concise Handbook for Administrators. Lanham, MD: Rowman & Littlefield, 2016
Ito et. al., (2010). Hanging Out, Messing Around and Geeking Out: Living and Learning With New Media. Cambridge, MA: MIT Press. Access at: http://digitalyouth.ischool.berkeley.edu/files/report/digitalyouth-TwoPageSummary.pdf
Kachel, Debra E., and Keith Curry Lance. "Librarian Required." School Library Journal 59.3 (2013): 28.
Lance, K. (2018). School Librarian, Where Art Thou? School Library Journal. Access at: https://www.slj.com/?detailStory=school-librarian-art-thou
Morris, R. School Libraries and Student Learning: A Guide for School Leaders. Cambridge, MA: Harvard Education Press, 2015.
Scholastic (2016). School Libraries Work: A Compendium of Research Supporting the Effectiveness of School Libraries. Access at: http://www.scholastic.com/slw2016/
Wineburg, Sam and McGrew, Sarah and Breakstone, Joel and Ortega, Teresa. (2016). Evaluating Information: The Cornerstone of Civic Online Reasoning. Stanford Digital Repository. Available at: http://purl.stanford.edu/fv751yt5934