Since yesterday's violent insurrection at the U.S. Capitol many parents have reached out to us for advice on how to talk with and support their kids in the aftermath. As children and young people alike process the live feeds, memes, and coverage of the attack on the halls of Congress everyone will need extra space and support to feel and express their feelings, practice collective care, and think about how to sort between fact and misinformation online. Here are four things to keep in mind today and in the days ahead.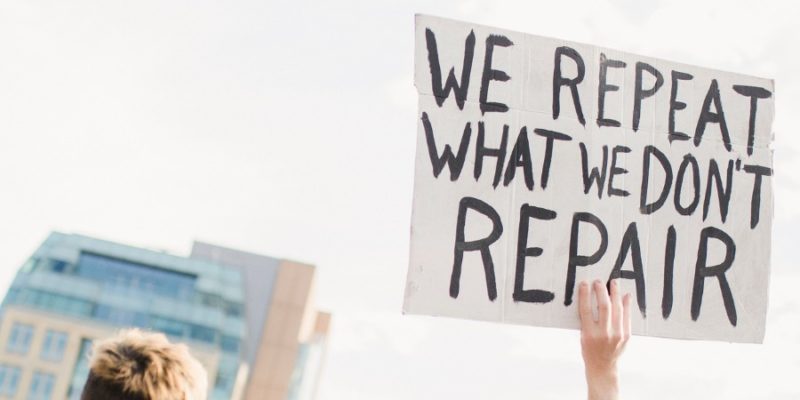 Create ongoing opportunities to learn, listen, and process.
While yesterday's actions were serious and pose extreme threat to our democratic institutions, it is not an entirely isolated event. This means that today should not be the first or the last time that we have conversations about racism, power, democracy, and media literacy with our kids. While this can feel daunting, it also means that we don't have to feel entirely "put together" today. Rather than feeling like we need all the answers for ONE conversation, be prepared to create smaller opportunities over time for healing, listening, feeling, visioning, and repairing. This is ongoing and lifelong work. 
In the wake of a specific scary event, check out our age-by-age tips on how to help children and youth process violence in the news. Striking that tender balance between explanation, reassurance, listening, and problem solving will be unique to your child's age, identity, and needs. Read these tips but also team with your child to understand what they need.
Pay attention to narrative and storytelling. 
Most children and teens were not in Washington D.C. yesterday. This means that they are learning about the events from friends and through media. This is a critical time for us to engage kids in conversations about how to sort fact from misinformation and to parent with media literacy in mind.  Get ahead of their newsfeed by providing reliable sources for questions about democracy, civics, and yesterday's insurrection.
Our kids desperately need digital guides as they move through this narrative landscape, not just to help them decide what is true and what isn't, but to help them see that each story, storyteller, and audience member holds different kinds of power and influence. Questions about authorship, format, audience, content and purpose are not neutral. Some narratives (or elements of some stories) uphold systems of oppression and others have the capacity to disrupt them. From story books to breaking news, engage your kids in questions about the narratives they are consuming, sharing, and creating.
Talk about racism, anti-semitism, and white supremacy. 
It is clear over and over and over again that raising courageous and connected kids means talking about racism, anti-semitism and white supremacy and giving kids age appropriate tools to spot it and disrupt it in our beliefs, behaviors, systems, and institutions. In other words, this didn't just take place "over there" or with "those people" but happens within us and around us all the time. This is especially the work and responsibility of white bodied parents and caregivers. Revisit our list of resources for engaging children and youth in these conversations and actions. 
Make space for feelings and build emotional courage.
It is normal for adults and kids alike to have big and unsettled feelings today. When we haven't had practice noticing our feelings, understanding the context for them, and considering next steps – we are more likely to go into "freeze, flight, or fight" mode in the face of fear or conflict. This is also true if we don't have people around us who we can trust with our feelings. Warm, caring relationships and emotional regulation allow adults and children to settle this stress response enough to access our "thinking brain" and consider next steps. 
So let's support and coach the full range of emotions – including rage and hope – as well as tools for handling them. Nurturing emotional courage means helping kids know and name their feelings, learn the context for them, and build tools for settling their bodies enough to channel feelings into healthy actions for themselves and others. As we continue to grapple with the issues presented by these events, it is clear that we all need to prioritize these practices. Read this post for more context and ideas. 
---
---
Additional Links for Parents and Educators
Responding to the Insurrection at the US Capitol – Facing History
Ideas for Engaging Students About the Chaos at the Capitol – Dena Simmons
When the News Is Scary, What To Say To Kids – NPR's LifeKit
Talking to Kids About Violence at the U.S. Capitol – Common Sense Media
Leading Conversations After the Insurrection in Washington D.C. – Teaching Tolerance
Three Ways to Teach the Insurrection at the U.S. Capitol – PBS Learning Media
Exploring Emotions – Sesame Street in Communities